The 2018 Roc Nation Pre-Grammys Brunch (via Kevin Mazur/Getty)
Trapital is written by Dan Runcie. You should sign up for his newsletter about hip-hop business and strategy
Roc Nation has made recent headlines for nearly every aspect of its business except its record label. Its sports agency, Roc Nation Sports, just signed NBA player Trey Burke. Last week, the ten-year-old entertainment company won its bid to halt an ongoing arbitration case because of a lack of black arbitrators. The company also started a new film and TV division this year. As Roc Nation continues to expand into different sectors, Roc Nation Records has become an afterthought.
The label started off strong when it signed a 24-year-old J. Cole in 2009. At the time, Cole's trajectory seemed like a validation of Jay Z's experience from Roc-a-Fella Records and Def Jam. But the label's track record of developing talent since then has been less-than-stellar. The label is still home to Rihanna, but she was a bonafide star when she joined Roc Nation in 2014. Today, many up-and-coming artists pursue younger record labels, like Quality Control Music, or go independent.
Roc Nation Records still has 24 artists signed to the label, but the sports division has nearly double that number. The music side of the house focuses more on artist management, most recently supporting Mariah Carey's new album, but many of its managed acts are in the twilight years of their careers.
If trends continue, Roc Nation Records will be more symbolic than it is impactful. The label may soon become a mere vehicle for the 4:44 rapper to drop his own albums and an excuse to host bougie brunches before the Grammys. It's an inevitable, but logical, outcome based on the management structure that Shawn Carter and Roc Nation CEO Jay Brown built. The business can still thrive regardless of changes in the music industry.
---
Roc Nation used its record label as an opening to the entertainment industry, the same way that Amazon sold books as its entry into retail.
---
//

Roc Nation was built to hedge bets

When Hov left his role as President and CEO of Def Jam in 2007, he grew frustrated by the industry's age-old business model. He shared his thoughts in an interview with Rolling Stone:
"I told [Def Jam], 'How about this idea — instead of spending $300 million to break four acts, why don't you guys give me a credit line, and I'll just do things. I won't make music. I'll go buy some headphones, or buy a clothing line, just be part of the culture.' But the money scared them off, because they're not used to thinking in that way."
Roc Nation was the answer to what Def Jam couldn't do. The company started as a full-service firm that offered 360 deals, artist management, touring support, and marketing. At this point, Jay had a fairly diverse portfolio of his own entertainment interests. He was part-owner of the then-New Jersey Nets, co-owned the 40/40 Club, and had just sold his stake in Rocawear. He wanted this new company to mirror his mentality.
Jay actually tried to do something similar with his first label, Roc-a-Fella Records, in the early 2000s. Him, Damon Dash, and Kareem "Biggs" Burke started Roc Films as a subsidiary and released cult favorites like Paid in Full and State Property. The expansion was the right mindset, but it wasn't in the company's DNA from the jump. And by that point, the relationships between the Roc-a-Fella founders started to fray. Culture eats strategy for breakfast, and there was no way for the Roc's new vision to takeoff when Jay was clearly done with his business partners.
Summer Jam 2001. Jay Z's face speaks volumes louder than anything his Roc-a-Fella team said in this interview.
When Roc Nation Sports started in 2013, Jay confirmed that the new division was part of the company's initial plan to extend beyond music. The expansion was timely with changes in the music industry. The once-celebrated 360 deals soon became viewed as a predatory measure to keep artists under the label's control. New streaming services like Spotify gained steam, causing many record labels—especially those solely focused on music—to yet again re-evaluate their strategy.
//

The strength in hip-hop and sports

Jay Z and Jay Brown's decision to start the sports agency under the Roc Nation umbrella, and not as a standalone firm, was critical for two reasons.

First, it strengthened the entire company. Roc Nation partnered with Creative Artists Agency to start the new division. When then-Oklahoma City Thunder forward Kevin Durant and then-New York Yankees second baseman Robinson Cano signed with Roc Nation Sports early on, there was less pressure for the record label to find the next J. Cole. A star is a star for Roc Nation, whether they are on a basketball court, in a ballpark, or in a recording studio.

Second, the decision signaled the company's desire to bridge hip-hop and sports. In several interviews, Jay stressed the importance of each division communicating with one another. Roc Nation's stable of athletes grew up watching these worlds collide in memorable moments like the Allen Iverson and Jadakiss Reebok commercials. Athletes perceive Jay as a channel to these brand-building opportunities because he's done it himself.

While many rappers view Jay the same light, others still see him as competition. Some of it's healthy and aspirational, like J. Cole learning from Roc Nation to build Dreamville. But some of it stems from pure envy. Hov shared his frustrations this summer on The Carters' song "Boss":
"N—— would rather work for the man than to work with me
Just so they can pretend they on my level, that shit is irking to me
Pride always goeth before the fall, almost certainly"
The more brazen the artist, the more likely they are to fall into that category. Meanwhile, many of Roc Nation artists have accepted that they are better off teaming up with Jay than trying to match him.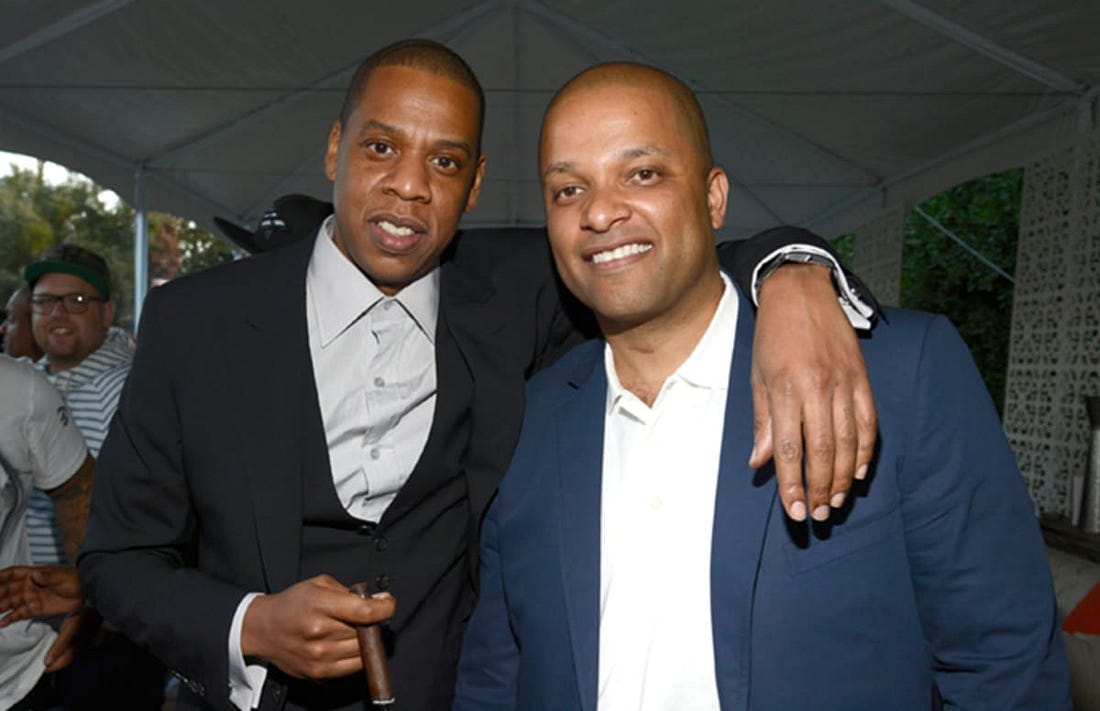 Jay Z and Roc Nation CEO Jay Brown (via Complex)
//

The Amazon strategy

Jay Z and Jay Brown know that their patient approach disappoints young artists. "We take our time. It may not be most popular with artists, especially new ones that wanna come out tomorrow," Hov told Zane Lowe in a 2013 interview. Jay Brown shared a similar sentiment four months ago in an interview with CEO.com. The Roc Nation mindset is in direct conflict with the SoundCloud Rapper strategy: drop music early and often, get instant feedback, slide into DMs with a link to the song, and hit folks up an hour later if they haven't responded yet.

Many of Roc Nation's artists rose to fame in the heyday of record labels. There was no instant gratification back then. These artists are satisfied with Roc Nation's harvest strategy: maximize revenue until the artist decides to call it quits. Roc Nation still has a few young artists, like Jaden and Willow Smith, but Will Smith and Jada Pinkett Smith's kids don't face the financial pressure to succeed that their SoundCloud-focused peers do.

A newly-signed group like The Lox knows that they are well past their prime, but Roc Nation can still help them score worthwhile deals. If the company can get Fabolous to perform at the Roc Nation Sports Boxing Match, similar opportunities exist for Jadakiss, Fab's Friday on Elm Street partner.

Although the company has shifted in priorities, music still served a critical role. Roc Nation used its record label as an opening to the entertainment industry, the same way that Amazon sold books as its entry into retail.

Amazon would have shut its doors years ago if it still relied on revenue from hardcover novels, just as Roc Nation would have struggled if it still banked on 360 deals. Both companies were well-diversified to handle the disruption in their initial industries and moved forward.
---
Five years from now, many of Roc Nation's promising athletes— like New York Giants 21-year-old running back Saquon Barkley and Manchester United's 25-year old Romelu Lukaku—will still be in their prime. Its venture capital firm, Arrive, may have a few exits by then. And the new film and television divisions could have a couple hits by then too. The Roc Nation enterprise is well-positioned for the future.
But it's hard to see Roc Nation Records expanding further. Many of its marquee artists will be approaching their 50s. All harvest strategies have a natural expiration date. Young rappers will continue to pursue other options to elevate their careers, and the Roc Nation team seem very content with that.
And plus, with the way Jay Z use Twitter, there's no way in hell he responds to an aspiring rapper who tries to slide into his DMs to get signed.
---