---
Join the music execs, business leaders, and hip-hop fans who signed up for the Trapital newsletter!
As the venture capital landscape matures, hip-hop's investors can stand out because the music industry went through similar changes.
Nas breaks it down (Photo by Richard Shontell/Invision/AP)
Nas has the hot hand in venture capital right now. In the past year, three of the companies he invested in—Ring, PillPack, and Pluto TV—have had major exits. The Queensbridge Venture Partners founder joins Jay Z, Chamillionaire, Nicki Minaj, and others who padded their pockets from acquisitions and IPOs. And when Uber and Lyft soon go public, more rappers will make headlines for their early investments. These artists established credibility in the venture space. The next generation now wants in.
While hip-hop continues to heighten its investment activity, venture markets have matured. Deal counts are down, investors now expect more from founders, and some startups have proudly told VCs to "get lost." The industry's perception is more nuanced than ever. The timing is a bit ironic for hip-hop. The culture usually sets more trends than it follows.
The late entry stems from the lack of initial access. For years, venture capital was a boy's club for Harvard and Stanford graduates. According to a survey by Richard Kerby from Equal Ventures, not much has changed. But recent efforts to improve diversity have added a few more investors from different walks of life.
The landscape would benefit from fresh perspectives. The approach that worked for Nas and Jay's deals may be less effective today, but that's a good thing. More opportunities come at times like this.
Both artists and founders welcome assistance that empowers them to maintain ownership.
---
//

More money, but fewer deals
Last year, venture capital had a number of highs and lows. A record $130.9 billion was invested— the highest since the dot-com era. But firms closed the lowest number of deals in recent years.
Here's a chart from Pitchbook that shows both trends: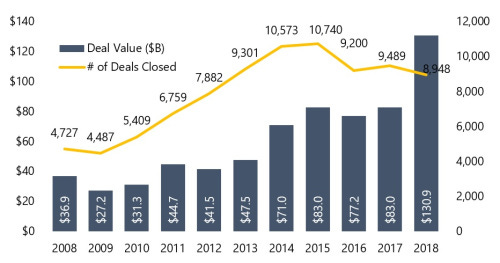 There's a number of reasons why. VCs have shifted toward bigger, safer investments. Useless apps like "Yo" do not raise the amount money they did just five years ago. More funding now goes to companies with proven business models that have gained traction. This will naturally draw in folks like Nas who often invest in syndication with larger firms like Andreessen Horowitz.
This shift has had the strongest impact on seed rounds. Mark Suster from Upfront Ventures recently investigated the trend in his blog Both Sides of the Table. Since 2015, seed rounds have declined in dollars invested, number of deals, and funds being raised. But in that same time frame, the median deal size in seed rounds has doubled. "VCs have raised bigger funds, which allows them to be patient and simply write larger checks to achieve their ownership needs," Suster wrote.
This trend coincides with the growing number of startups that forgo venture capital. The landscape has changed considerably in a short time frame. Hip-hop can relate. The music industry already went through this.
// 

Independence is valued
Music and tech have had similar evolutions in their respective value chains. Before streaming, record labels drove distribution. Newly-signed artists were raw with talent and green to the spotlight. Labels had to groom artists for the road ahead.
Today, most SoundCloud rappers can host a masterclass in self-promotion. Streaming services have reduced the cost for artists to launch their careers. When labels now approach artists, there are measurable metrics to determine if fans rock with a potential signee. This leads to more polished artists getting deals. But it also encourages some to stay independent. Many artists want to own their masters and not share revenue with the labels.
A similar trend happened in tech. Amazon Web Services dramatically reduced the cost to start a tech company. Startups no longer had to purchase expensive hardware and software. They could rent space on the cloud instead. This led to the seed round boom from 2006 (when AWS launched) to 2015 (when the seed market peaked). But when a lot of those peak seed investments didn't work out, founders became reticent to fundraising. No one wants their company to dominate headlines because it grew too fast and had to lay off staff.
Music is slightly ahead of tech in supporting independence. Spotify and SoundCloud allow artists to directly upload music to the service. Companies like Tunecore, UnitedMasters, and Stem make life easier for artists who want no part of a major label. These firms help artists get paid, distribute music, and stay in control.
Tech is getting there. Funds like indie.vc help founders build sustainable businesses, not just climb the fundraising ladder (in 2015 indie.vc stepped into The Shade Roomand invested $100,000). Village Capital, TinySeed, and others offer alternative funding options as well. But more can be done.
The push for independence is not a refusal of help. It's an indication that traditional models with venture capital and record label are not the move for everyone. Both artists and founders welcome assistance that empowers them to maintain ownership. Hip-hop's investors have the mentality to accelerate that change.
16-year-old NLE Choppa just turned down $3 million offers from record labels to partner with UnitedMasters. Damn. What were y'all doing at 16? (via Forbes)
// 

Playing to strengths
Most artists have already shown their risk tolerance. The moves they make in the industry speak volumes. This informs which areas make the most sense to invest in.
On one end of the spectrum, there's Atlanta's Quality Control Music. The young label operates like a seed fund that pumps out new music nonstop and hopes a few projects take off. If the label's COO Coach K, Quavo, or Lil' Baby decide to get in the game, they could be strong fits for early-stage ventures. Especially in Atlanta, which had a promising 2018 for venture capital investing.
There's also an opportunity to build new models for accelerators. Y Combinator is still the industry's most-desired option, but it's a launchpad for future rounds of fundraising. Founders who bypass traditional venture capital may welcome accelerators that foster independence.
The other end of the spectrum is Roc Nation. The company operates like a private equity firm designed to get the most out of its mature assets. In recent years, PE firms have played a larger role in late-stage funding rounds. The Roc Nation team can encourage its artists to invest in this stage and make moves. Manhattan Venture Partners' All-Star Fund focuses on late-stage pre-IPO investments for entertainers. A number of rappers have already invested with them. Later-stage companies may welcome non-traditional investments options too.
Artists should also support the push for diversity in tech. Sure, rappers themselves are new black and brown faces in the industry, but we need more regular folks. There's a hope that their presence can increase investments in underrepresented founders. Black founders account for just 1% of funding received. There's a twofold opportunity to champion these founders and fund investments that the industry habitually overlooks.
---
There's been a running question on Twitter for the past year: Would you rather get $50,000 or have dinner with Jay Z?
A lot of folks chose dinner. They value Jay's insights and believe that the networking opportunity will yield future rewards. Nas and others may soon insert themselves in this hypothetical scenario. If these music moguls bring innovative solutions to venture capital the same way they did in the music industry, change could come. There might be more folks who eventually choose dinner instead.
I get all that. But me personally, I'll take that $50,000. Then I'll find a way to get invited to a Roc Nation brunch and grab some time with Hov. Best of both worlds.
---